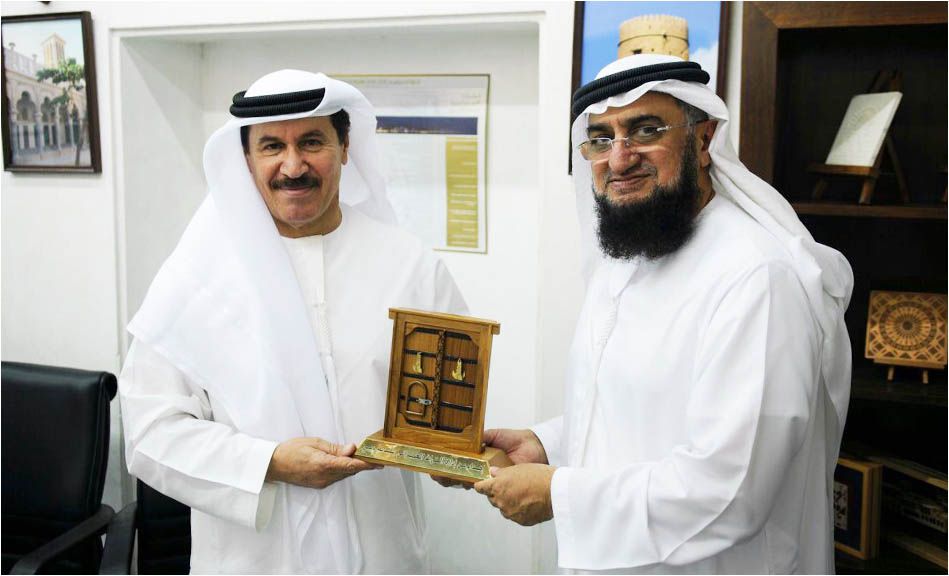 His Excellency Salem Almoosa, Chairman and General Manager, Falconcity of Wonders, was recognised by Dubai Municipality for his efforts in supporting Dubai Municipality's bid in listing the Dubai Creek among the World Heritage Site of United Nations Educational, Scientific and Cultural Organization (UNESCO).
His Excellency Salem Almoosa, who grew up in the Shindagah area of old Dubai, used his memories to identify and recreate the old Dubai map. He served as a historical reference in identifying unknown houses, shops, locations, roads, sikas, and other historical sites that the youth were not aware of their existence. His sharp memory and expertise in community planning were exceptionally useful in identifying homes, owners and their reasons of demolition – if any.
The award was handed to His Excellency Salem Almoosa by Rashad M. Bukhash, Director of Architectural Heritage Dept. Dubai Municipality and Chairman of Architectural Heritage Society, UAE on 6 January, 2015.
His Excellency Salem Ahmad Almoosa said: "The project has taken me back to my childhood and to the city of Dubai in which I grew up. It has been a refreshing experience. Although I have seen the emirate grow from a desert to a modern city, revisiting its early days has highlighted how Dubai has grown at an exponential rate.
The Dubai Creek has been at the core of this development – opening up the UAE's rustic lands to new people, experiences and way of life. Inasmuch, Dubai Creek deserves the title of UNESCO's World Heritage Site.
"This project will also support in heritage conservations, which will go a long way in helping Emirati youth and expats who call Dubai their home to better understand the evolution of the emirate, and be proud of its achievements, and carry forward the traditions. I am glad to have been part of this effort as protecting our cultural heritage is the duty of each individual not just the government."
Dubai Creek has brought together civilizations – with the oldest documented instance in the 15th century when Venetian merchants travelled here to buy pearls. The project is a part of Dubai's architectural conservation efforts that has seen architects, archaeologists, historians, heritage conservationists and government officials taking part. Dubai currently has renovated 178 historical buildings across the emirate.